Our wedding ceremony was at 3:30 pm and expected to take around an hour. In Sioux County, many churches do not want events to stay too late on Saturday, so the janitor does not have to work late before church the next day. We did not want to have dinner too early in the evening, so we had a cocktail hour where people could take their time going to the reception and snack a little bit beforehand. We had decorations people could look at, a picture slideshow of when we were young to now, and we had a jar where people could write advice or adventures to go on for us.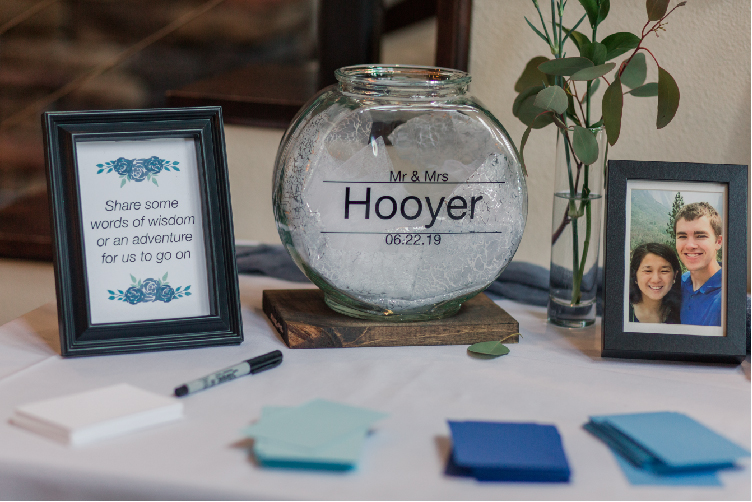 We had a grand entrance to introduce the wedding party. We had their names on the program, but we wanted to highlight them a little more. We did not do anything super special. We just walked in, prayed, and started the dinner buffet. We did not really accommodate people with food allergies, but we did try to have a variety of options to fit anyone's needs. I do have an uncle who is gluten-free, so I made sure to let him know what was safe for him to eat and let his table go right after the Head Table to avoid any cross food contamination.
The Head Table ate first and after Aaron and I were done, we went around the room to talk to all our guests and thank them for coming. We did not have alcohol at our wedding because neither of us drank it very much. We did supply sparkling juice for all the tables for toasting. Going around the room took a lot longer than I thought, but that is okay because it was nice to catch up with our family and friends.
Next, we had the Maid of Honor and Best Man speech. My Maid of Honor was my middle school/high school best friend, Grace. Aaron's Best Man was his twin brother Jesse. Their speeches were wonderful and funny. I wished I had a video of them, but I don't think we do.
At my cousin's wedding, they played a shoe game and I loved it. I decided to have that at our wedding too. I asked the emcee, Steffi, to host it. She picked 10 questions that she liked best and asked us to hold up a shoe of the person the question applied to. For example: Who said, "I love you" first? In this case, Aaron and I both held up Aaron's shoe. I believe we only disagreed on two questions. It was pretty fun and I think our guests enjoyed learning a little more about us.
I baked and decorated a little cake for us to cut. Then we just had a Costco cake for everyone else. The little cake I made did not taste very good, which made sense since I do not have a good vanilla buttercream recipe and that cake was in and out of the fridge a lot. However, I love Costco cake better anyways, so I was happy to eat that instead.
Lastly, we had our first dance and we had other couples join quickly. We decided to leave a little early because it seemed that many people did not want to stay long and did not want to dance. I did not mind since we had a very early flight the next day and the hotel was over an hour away. We had people pick up glow sticks and send us out.
Some things I would change for our reception is the number of times people could get food. It did not seem like people could have seconds and people's plates were whisked away quickly. Another thing I would change is the music playlist. I do not think I would have hired a DJ, but I might have tried harder on the playlist for the dance portion. I was also told one side of Aaron's family does not like to dance a lot anyways, so a DJ felt like it would have been a waste. Also, we were not able to add song suggestions from our guests or make it a good order. I think we hit shuffle and we really should have planned an order. However, it all turned out fine and there is nothing we can do now about it.
Overall, it was a nice reception and it was great to spend it with family and friends. Below is a simple outline of our reception:
Grand Entrance
Food
Shoe Game
Cake
First Dance, Dancing
Exit